― PART I ―
IBM Cloud Management Console runs as a service hosted in the IBM Cloud, freeing organizations from maintaining software to monitor their infrastructure. Dynamics views of performance, inventory and logging data for your complete Power Systems enterprise, simplifies and unifies information in a single place, and thus allows clients to make more informed decisions.
DEVELOPMENT TIMEFRAME
Mar 2017 - Jun 2018
Team
Alissa Lee / UX Designer
Nick Hahn, Susan Jasinski / Team Lead
Margie Villanueva / Researcher
Patrick Lowden / Visual Designer
Atos / Development Team

― (Developer's) Origin Story
IBM Cloud Management Console (CMC) started off as an initiative for Power Systems unit to introduce its first management platform hosted in the cloud. The effort began as an engineering-driven project, and resulted in the production of the CMC platform and functionalities that provide performance, inventory and logging information regarding the clients' enterprise Power systems environment.
In order to address the low-hanging fruits of the development work, the design team was instructed to improve the experience of the CMC platform, along with the Logging and Inventory applications. As for the Performance app, this would need to be revisited and would require an extreme makeover, including implementation of more robust functionality and more ergonomic interaction behaviors.
― Design's Role in CMC
Having an existing prototype to work off, the first step that I had to take as the UX designer was to evaluate the current state of the product. This includes conducting a heuristic evaluation of the platform and two applications to ensure the consistency of interaction and visual patterns, the taxonomy of the content displayed in the screens, and the architectural integrity of information for the platform and each app. Considering the scale of this project, each experience needed to be evaluated separately.

Services to be evaluated:
1) CMC Platform: User Management ― Enable customers to edit user profiles and modify administrative access to secure, IT environment data.
2) Inventory application ― Monitor the health status of all resources in one's Power IT infrastructure.
3) Logging application ― Provide insights regarding one's datacenter's PowerVM Virtualization actions.

Violations addressed in improved designs:
1) Flexibility and efficiency of use: Scalability was an integral component in designing these screens. There had to be an awareness of how components could grow (account users, applications, managed systems), especially in IT environments that host hundreds and/or thousands of hardware and virtual machines.
2) Aesthetic and minimalist design: Again, considering scale, the usage of modular cards and graphical visualizations were deemed unmeaningful and only added to visual clutter. Tables allow users to quickly scan and identify relevant pieces of data through vast amounts of content.
3) Consistency and standards: Digesting large amounts of data are a necessity in these apps. Being able to visually display secure system names, IP addresses, resource configuration, and more in a simple and clear way allows users to quickly identify key points of data across the various apps in CMC.
CMC Manage Users / BEFORE
CMC Inventory App / BEFORE
CMC Inventory App / AFTER
― Re-aligning on the Mission
Once the redesigns of the platform and the individual apps were evaluated and tested by a group of users, the feedback was logged and prepped for what we called an Alignment Workshop. For this workshop, our team set out to re-align with our stakeholders, including business, design, engineering and marketing around the future goal and roadmap of the CMC product. Remember, this project started off as an engineering-led project that was internally determined as priority, but not so much informed by quantifiable market or user research.
Main Goals of the workshop:
1. Leverage discovery research to create shared understanding of our users
2. Define product strategy
3. Plan future roadmap and next step
― Personas
One of the key takeaways from this workshop was the identification of 10 roles, all capable of being a vignette for a persona. Depending on the size of a company, system administrators may uphold 1 to 3, or virtually all of these 10 roles. By investigating the value exchange and interaction between these roles, our team was able to indicate the needs that our services should address to alleviate any pain points.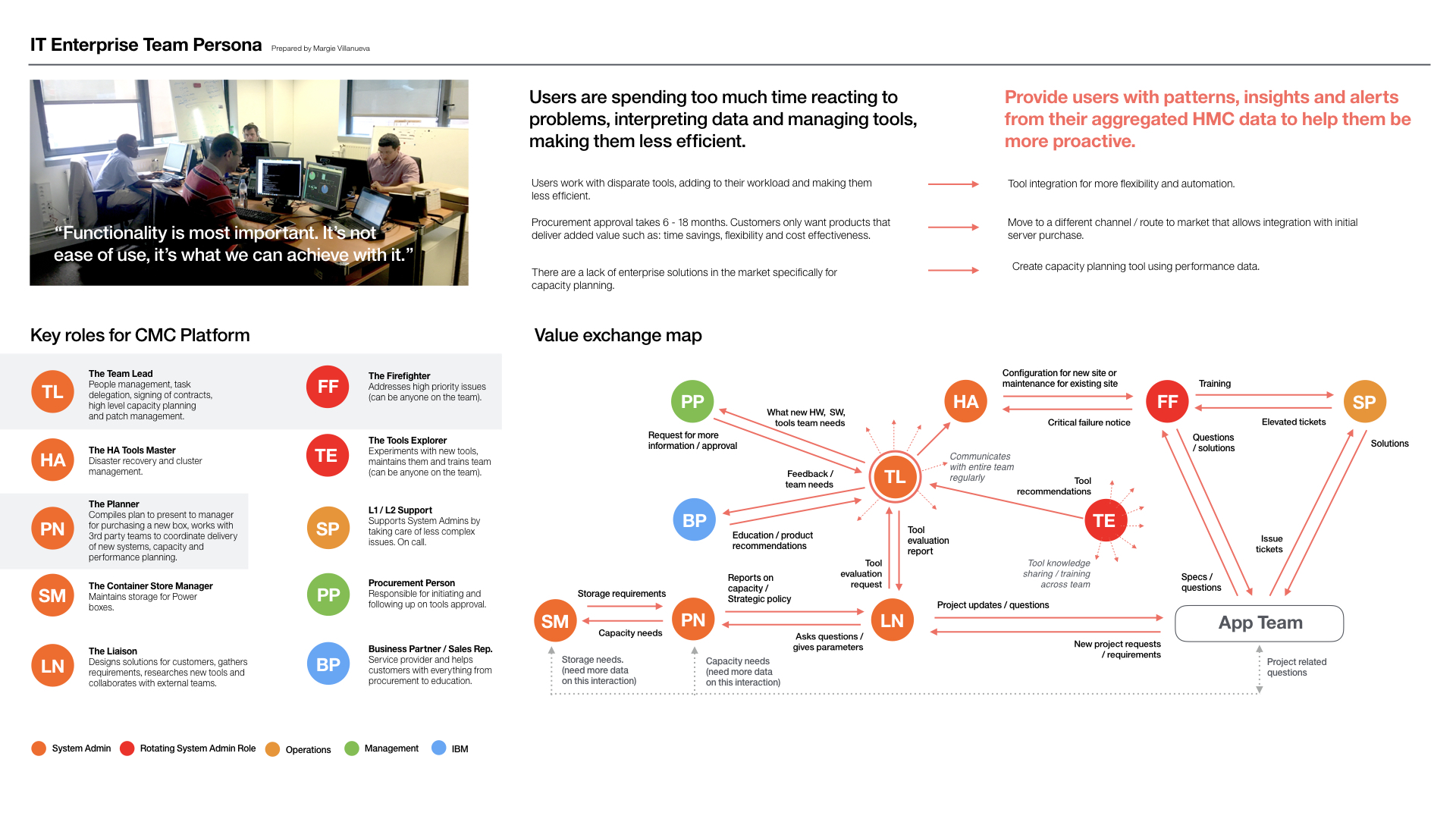 ― Redefining the Roadmap
The insights gained about system admin roles and the needs of these users played a huge role in informing the product strategy and roadmap for CMC. The roadmap below illustrates the 5 phases that break down the scope and delivery of specific functionalities to resolve the users' needs for predictive insights (being more proactive than reactive to critical issues), information accuracy about their environment, and flexibility in tool integration so that they collect the right type of data. We identified that the first phase would include creating a performance-monitoring app and reworking the architecture of the CMC platform. Myself and a design researcher were tasked to investigate the former workstream.
― PART II ―
PART II: IBM Capacity Monitoring application monitors the performance of a Power IT infrastructure. Utility across various resources including core, memory, storage, network and power, is collected and presented in a manner that enables customers to better understand how their environment has been impacted and consequently identify the necessary next steps to mitigate issues.
― Steps to accomplish Phase 1
1. Identifying Sam, the System Admin
Out of the 10 roles that were identified, we created Sam ― a persona archetype informed by 3 specific roles that inform and influence the monitoring and planning of capacity for an IT environment. Sam encompasses the 3 roles that are heavily involved in the performance-monitoring process of a system admin, and therefore is the target user to accomplish Phase 1.
2. Understanding Sam's major pain points when monitoring his systems' performance and planning for capacity:
1) Slowly reactive to issues like system going offline or updates not going through properly.
2) Relying on multiple tools to address performance issues and to balance workloads.
3) Dealing with a lot of back and forth communication and interruptions to share relevant data with stakeholders.
4) Hesitant about cloud experience due to possible security threats.

3. Crafting Mission Statements that address and prioritize Sam's needs:
In order to address these significant pain points, the following three mission statements were crafted. These mission statements are informed by our users' As-Is Journey Maps which include customers and stakeholders, as well as insights gathered from existing, competitive tools.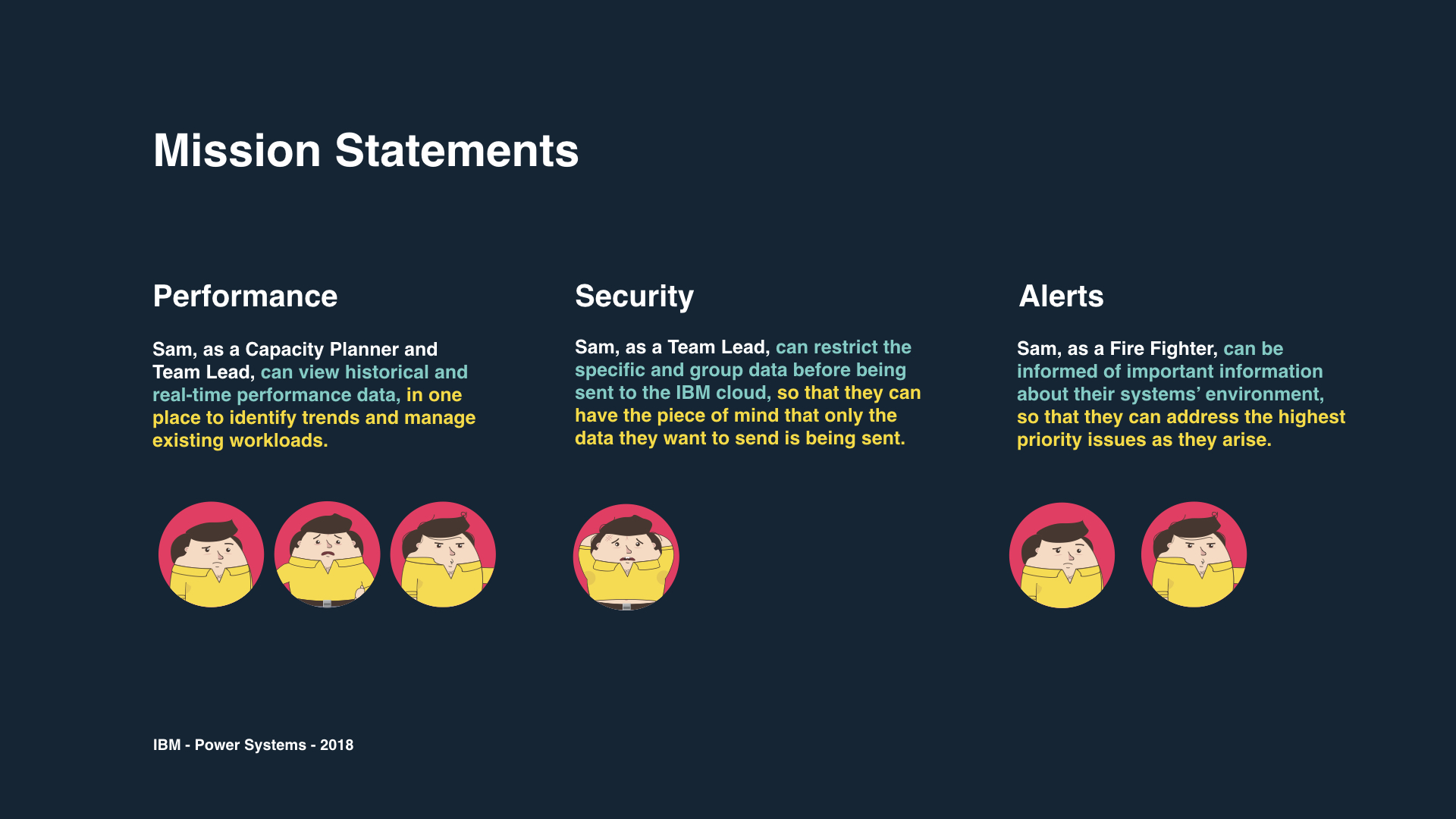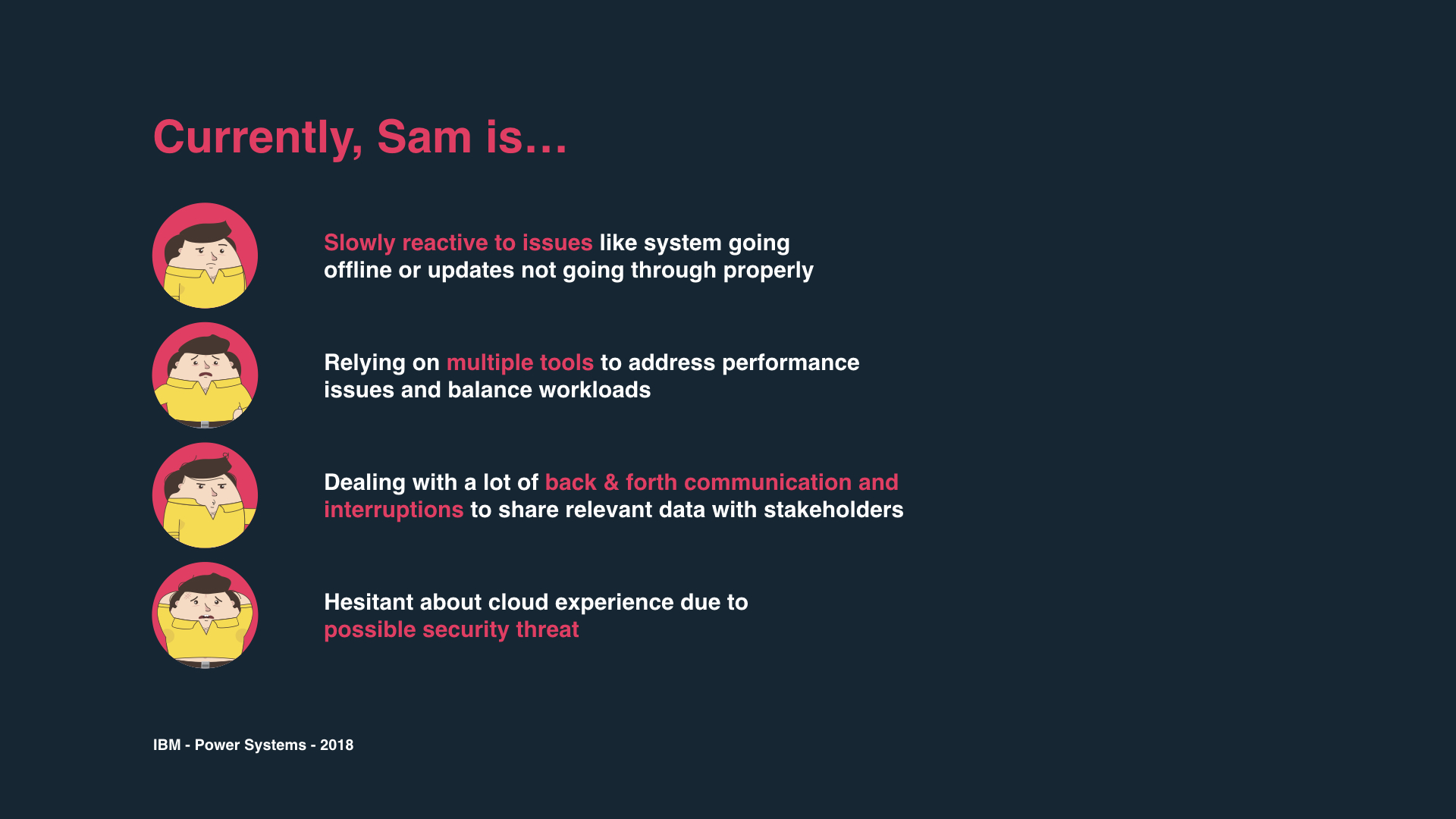 ― Mission 1: Performance
Sam, as a Capacity Planner and Team Lead, can view historical and real-time performance data, in one place to identify trends and manage existing workloads.

Capacity Monitoring / Inventory Experience

1) Prioritize and view data at a glance:
— Quickly identify systems that require immediate attention
— Sort table items based on user preference (high > low, low > high)
— Get a summary of total usage across the entire environment vs usage for individual system
— Filter or search by recognized attributes to narrow down to desired results
— Confidently locate a system by viewing the adjacent attributes displayed

2) Customize environment to view as user sees fit:
— Assign systems into groups with tags
— Create tags labeled in a way that's familiar to the user
— Search or filter items with unique descriptions or tags

3) Share full inventory with others:
— Export full inventory list, including the resource summary and utilization with stakeholders
Capacity Monitoring / Performance Experience

1) View performance across various resources:
— Select which resource to view performance for: core, memory, storage, network and/or power

2) Customize how to view real-time and historical performance data:
— Set date range to inform parameters of the graph OR select default timeframes: last 24 hrs, last week, last month, last year, last 3 years
— Select and zoom into specific time range to view utilization
— Gauge various types of utilizations: current, average, min, max
— Identify when peak utilizations occurred
— Better understand when and for how long peaks occurred at a specific time
— Foresee utilization based on trending data
3) Understand the dependencies of a system's performance:
— View all systems or items that contribute to a system's performance
— Understand how other items have impacted the system's performance based on: core usage, entitle cores, number of peaks, and more

4) Share relevant and detailed performance data with others:
— Export all real-time and historical data to share with stakeholders or impacted parties
― Mission 2: Security
Sam, as a Team Lead, can restrict the specific and group data before being sent to the IBM cloud, so that they can have the piece of mind that only the data they want to send is being sent.

Capacity Monitoring / First-Time Setup Wizard
1) Restrict data access in a secure way:
— Input individual or customized list of systems to NOT be hosted by CMC
— Confidently identify systems to blacklist based on unique identifiers such as: machine type, model number, serial number

2) Be secure, but also be flexible about controlling data accessibility:
— Access the CMC settings page to update list of systems to blacklist at any given time
― Mission 3: Alerts
Sam, as a Fire Fighter, can be informed of important information about their systems' environment, so that they can address the highest priority issues as they arise.

Capacity Monitoring / Settings Experience
1) Ensure data stays up-to-date
— Choose to have data update automatically in a set time or manually

2) Be alerted as soon as problems arise
— Set custom thresholds for each system, partition, and shared processor pool
— Inform parameters (usage % and time) to trigger alerts to the user
— Set up as many thresholds as needed
— Restore settings to default setup
― UX Responsibilities
Primary Responsibilities
Lead entire UX effort for the project. This included:
— Creating user journey maps and use cases
— Constructing the interface information architecture
— Designing low to high fidelity wireframes (for native and web)
— Creating visual and interaction elements
— Preparing question guides and designs for usability testings
— Providing hand-off materials (wireframes, redlines, annotations) to development team
— Sustaining communication channels with development to discuss design decisions and specific interactions
— Conducting a heuristic evaluation of the platform and apps
Secondary Responsibilities
— Defined the user's current or As-Is journey map
— Documented notes and insights for majority of discovery user interviews with customers
— Synthesized research and created actionable insights
— Assisted in creating project's mission statements