IBM Project Monocle is a patch management application that provides information to Power Systems users to effectively patch and plan maintenance on their systems, and allows teammates to form alignment on next steps.
TIMEFRAME
Nov 2015 - Jan 2017
Team
Alissa Lee / UX Designer
Nick Hahn / Team Lead
Eleanor Bartosh / Researcher
Patrick Lowden / Visual Designer
Iftekharul Islam / FED
 
IBM Project Monocle's inception originates from the Power Systems organization submitting a program request to the IBM Design Studio in Austin, TX. As a 6-week training program for new hire designers, the Incubator program enabled 6 designers, along with Power-led product management and engineering to solve the following mission:
Build a "one-click update" patching solution.
Through discovery research with Sponsor Users, the team found that due to specific customer configurations, a one-click to push updates was found to be unrealistic and unwanted by customers. In 6 short weeks the design team researched, designed and programmed a front-end prototype to manage the patching process informed by customer input. This level of involvement wowed customers who, for the first time, felt like their input was being heard directly by a product team.
Due to customers' desires to use this product, Project Monocle became the first Incubator to become a Hallmark project at IBM. As a Hallmark, Project Monocle would be secured design, product management and engineering support to become a full-fledged product available for customers. This kicked off a full team, 3-day workshop between all internal stakeholders including a product manager, engineers, Distinguished Engineers, support, and sales.
The goal of this workshop was to drive alignment on the goals and direction of the project, as well as help the broader team. With the help of Design Thinking and using artifacts like Empathy Mapping and the As-Is Scenario, the entire team was able to leave the workshop with a better understanding of system administration and the world of servers, as well as a strong plan to move forward for discovery user research.
Interacting with our customers and Sponsor Users enabled us to learn about their pain points, and therefore helped us assess and focus on the areas of our users' experience we can make the most improvements and provide value. One of the important themes that we discovered went something like this:
"Even though we do have this home grown inventory… we still don't have a 100% solid view of our environment, we have to go off and determine: are we vulnerable, are we exposed, do we need to do something?"
― Global nonprofit health enterprise
― Personas & Pain Points
This led to the creation of our two personas: Jack the Lead System Admin and Jill the IT Manager. Jack and Jill are a representation of more than 30 users who we interviewed, and they help us better understand the users' journey, and the positive and negative experiences that they encounter.
― Mission Statements
Upon synthesizing the user research, the team arrived at actionable insights and devised three mission statements to scope the focus of the project. Staying aligned to these mission statements will enable the team to deliver a minimum viable product that addresses our users' pain points and provides meaningful value to customers within a reasonable timeframe.
Gaining empathy for our users is an important step in uncovering areas of the user's journey we can impact and therefore provide a solution that will also be empathetic to their circumstances.
But before we could gain that empathy, the team first had to gain more knowledge about our users' domain: system administration.
Therefore I created visual representations of each Sponsor User's current or "As-Is" workflow, to account for any contextual data that would inform the full picture of the user's journey (ie the amount of time spent patching systems, misalignment and miscommunication between coworkers, etc). Visualizing this information enabled us to actually see the wasted amount of time and effort our system admins suffered through, and realize that this was happening because the tools they were using were not empathetic or suited to the systems admins' workflow and needs.
― Delivering Value
Once we were confident in the As-Is journey and the pain points we needed to address, I designed a To-Be workflow that highlighted the areas Project Monocle would provide the most value and improvements. We made sure to validate this To-Be experience with our users to ensure we were delivering a product that touched on the right use cases and provided helpful information that our users could take to confidently patch their systems and continue to keep their environment secure. Through the To-Be experience the team was able to design epics and user stories that would inform our sprint cycle and deliver on the three mission statements.
― Mission 1: Awareness of Inventory
The Inventory experience is an incredibly significant part of our project. In order to provide any value to our customers, we had to make sure that this experience would be useful. To achieve this it was vital that a lead admin has an up-to-date, detailed inventory of his Power Systems without having to gather information manually. This includes system-detail information like:
— Server host name
— Status of systems
— Machine type
— Serial number
— IP Address
— Current OS level
— Recommended level
Having an accurate view of their environment without having to do intense labor like manually searching for updates or punching in system-related information in error-prone spreadsheets, is a huge win for our users, and that is exactly what we hope to achieve in the Inventory experience.
"Even though we do have this home grown inventory… we still don't have a 100% solid view of our environment, we have to go off and determine: are we vulnerable, are we exposed, do we need to do something?"
―Global nonprofit health enterprise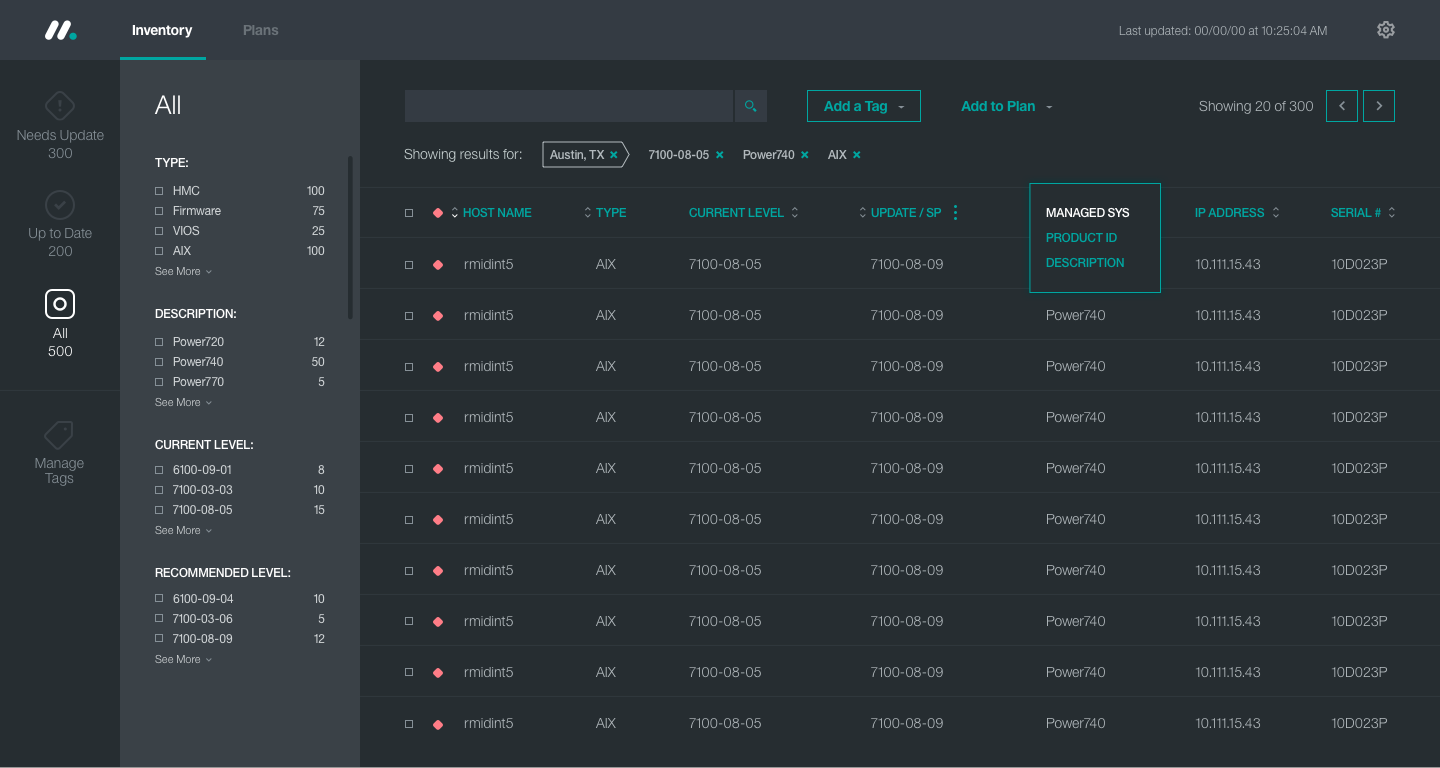 ― Mission 2: Discovering the Delta
Once users understand what it is that they have, system admins need to assess what to do next to keep their systems up and running. Now that system admins know what systems they have in their environment, they need to know what patches they need in order to keep those systems up-to-date and running. In this System Detail Page, system admins are provided detailed information about available updates and how these updates will impact their systems.
By leveraging existing IBM tools like the IBM Fix Level Recommendation Tool and IBM FixCentral, system admins do not have to manually go into each of these tools to find information about updates — instead they are immediately directed to the same information all through a single platform.
"There isn't a lack of information, but finding the exact information you want is really hard."
― Agricultural marketing company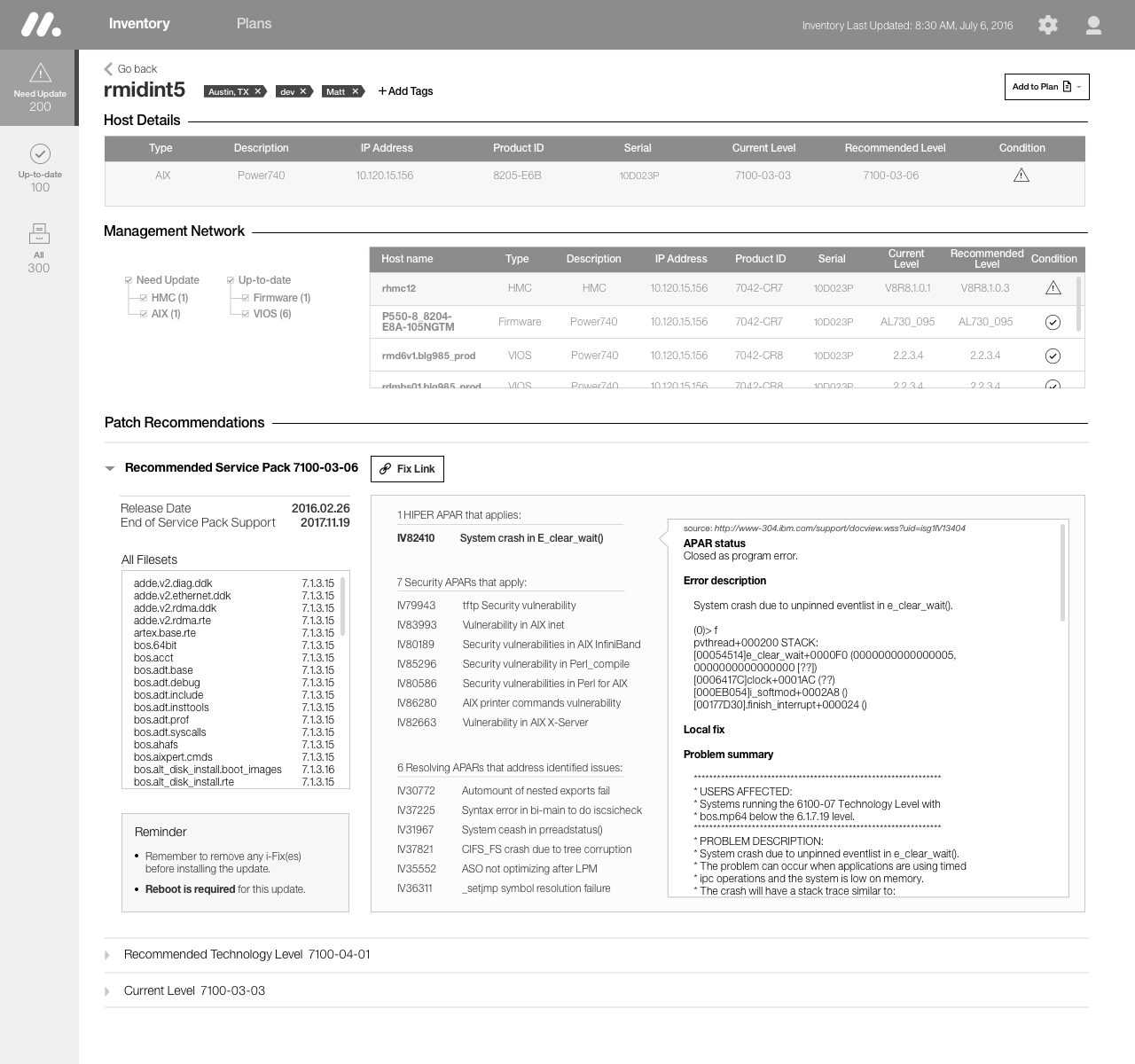 ― Mission 3: Gaining Alignment
The Patch Plan experience of Monocle attempts to alleviate miscommunication between system admins, IT Manager, and affected stakeholders. Although this pain point is not directly system-related, it is a huge, underlying issue that system admins struggle with in the workplace.
Affected parties like application or security teams rely on one another to communicate upcoming changes or action plans because they will also be impacted. However, these teams do not currently have a streamlined and efficient way of communicating with each another; instead they are using phone calls, meetings, and emails to communicate and keep track of any system-change information.
Realizing that this constant back-and-forth was another major reason system admins could not work efficiently, the design team knew we would be alleviating a huge need for our users by creating a solution where system admins and IT Managers could seamlessly communicate and share relevant system information via a central portal.
"The most difficult part for me was to get the information and see how they belong together [in order] to do the proper planning."
―Global healthcare company
Once we were able to determine what value we could provide our users, we faced another challenge we had to solve for:
How would we be able to gather our system admins' inventory in order to deliver their information so that it is meaningful and informs next steps for our users?
Although we had the option of creating an entirely new technology to serve this purpose, we discovered an existing IBM tool that we could leverage to pull in customer's inventory information for Project Monocle. With the help of IBM Technical Support Appliance (TSA), we were able to collect inventory data of customers who were already TSA clients, and present that data via the Inventory experience in a more meaningful and accessible way to our users.
― Project Monocle Product Release
On October 2016, Project Monocle launched its Beta.
Within a duration of 4 months we continued communication with users on a bi-weekly basis to record feedback based on the project, whether that was concerning the helpfulness of the data, interface usability, feature functionality, etc. Among the feedback we've received, many responses have reflected positively on the project like this one:
"It was everything and a little more than I was hoping… On one of the servers we were looking at, it caught a mistake of mine. I thought I had patched the server with the other boxes but [realized] it was a release behind… that was super to see that. We don't have anything like that with a dashboard that shows us a complete picture."
― Health insurance organization and company
— November 2017 - InVision featured Project Monocle in its short documentary that explores IBM's design thinking story and transformation.

— April 2017 - Doug Powell, Distinguished Designer at IBM Design introduces Project Monocle as an example of how teams are using Design Thinking to develop "awesome user experiences and run their business in a dynamic, agile, and inclusive way" at the O'Reilly Conference in San Francisco.
— February 2017 - Delivered a presentation to Design GM Phil Gilbert, Senior Vice President of Power Systems Robert Picciano, and Senior Vice President of IBM Systems Tom Rosamilia to discuss Project Monocle's story and its future plans for 2017.
— September 2016 - Monocle Design Team introduces Project Monocle and how it used IBM Design Thinking to better understand our users and identify their pain points at the Edge Conference in Las Vegas.
Primary Responsibilities
Lead entire UX effort for the project. This included:
— Creating user journey maps and use cases
— Constructing the interface information architecture
— Designing low to high fidelity wireframes
— Creating feature and visual elements (consisting original designs)
— Preparing questions/guides and designs for usability testings
— Providing hand-off material for Visual and Development
Secondary Responsibilities
— Defined the user's current or As-Is journey map
— Documented notes and insights for majority of discovery user interviews with customers
— Synthesized research and created actionable insights
— Assisted in creating project's mission statements
— Co-lead an on-site customer inquiry with researcher
— Eventually went on to lead research for the latter duration of the project's Beta. This involved continuing relationships with beta testers, collecting and synthesizing user feedback from survey results and diary studies, and on-boarding new users over a span of three months.
Additional Responsibilities
— Lead and co-lead numerous meetings with internal stakeholders regarding designs, strategy, and important milestone presentations
— Designed majority of the presentations/decks used to present Monocle-related content for internal stakeholders including customers and executives.